Let's Showwcase - A platform to connect, build, show, and grow
Showwcase is a platform to build meaningful connections, networking to show your work. You can collaborate, share, and grow. Let's know more about it.
What does Growth mean to you as a developer, programmer, or creator? To me, growth is an ever-increasing metric to identify that you are doing great in,
Acquiring knowledge.
Connecting to like-minded, discussing ideas.
Building communities.
Getting opportunities.
Creating products.
Providing services.
Generating revenues.
Fueling your passion. Showcasing your creativity and talent.
You can not do these alone. You need support. You need to connect to a network of people, tools, technologies that helps you with your growth.
In the modern era of learning, sharing, and building, there is no scarcity of platforms that help you with many of the requirements we discussed. But, the practical problem is, there are too many of them.
We as developers must engage ourselves in problem-solving, building products, getting them to the market. It doesn't justify our energy, effort, and talent to lurk around multiple platforms to push our Growth Quotient forward. We need one platform that allows us to do it all from one place!
Meet Showwcase
Showwcase is a network built for developers, coders, programmers. It is a platform to help you connect, learn & share, showcase your passion, create opportunities, and getting paid for the work you do best.
We learn by reading and doing. But, we learn faster by observing, learning from the experiences of someone we admire. A meaningful connection helps you with that. Today, with many social networking platforms, You may be connected to someone, but there are no right avenues to utilize that connection.
Showwcase aims to solve the problem of meaningless connections by providing ample ways to connect to the like-minded and share. Not only that, there are many other features to show your work, stay engaged in a community, create a stunning profile, and many more you can do.
Let's learn about all the great feature offerings from Showwcase.
Developer Portfolio
A portfolio is a professional face of a developer. Usually, a good developer portfolio/profile gives an idea about,
Who are you?
How to contact you? What are your social footprints?
What skills do you have?
What's your professional history?
What are your credentials?
What kind of side projects have you done?
Do you have anything to showcase? Maybe a product you have worked on, ebook published, anything.
Showwcase provides you the feature to create your developer profile with all that within a couple of minutes. You can capture all about you and your career, passion, work, shows under one roof.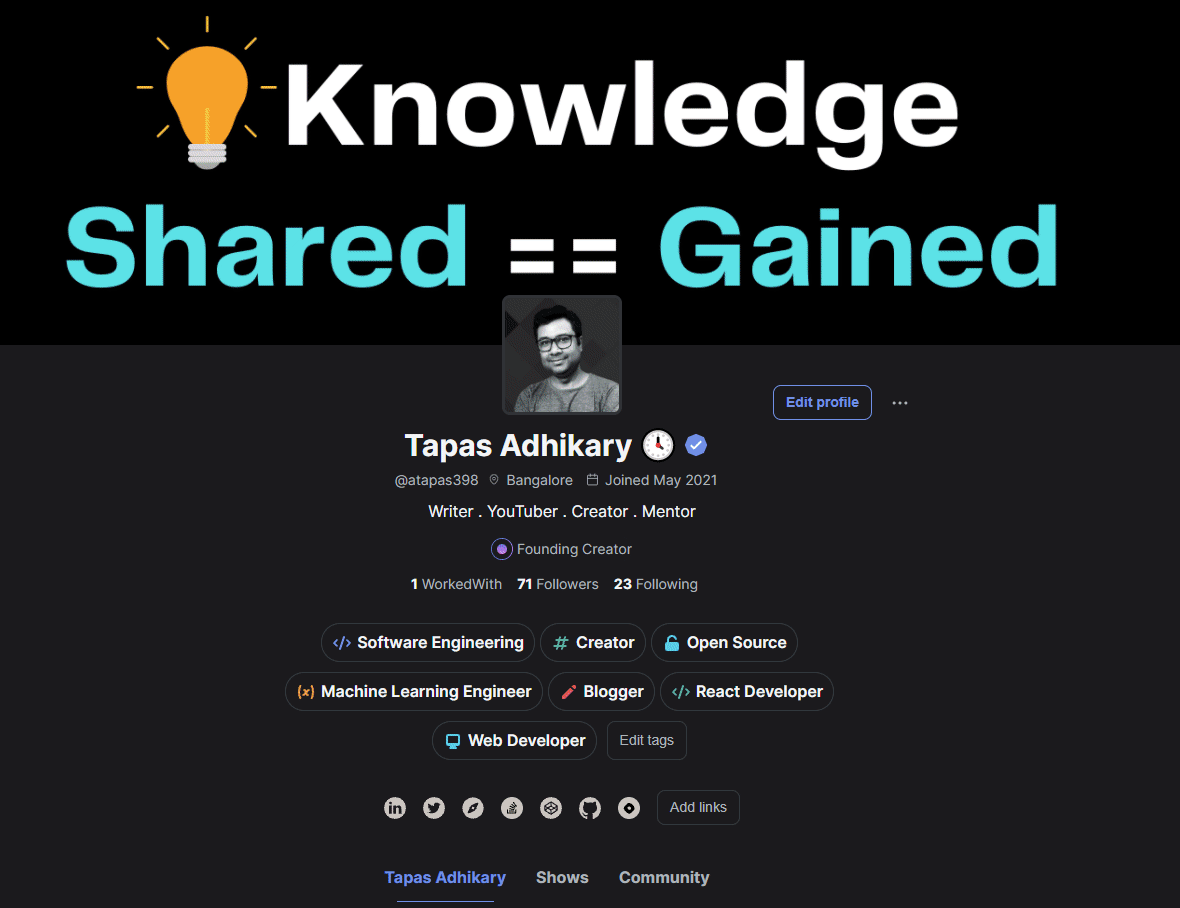 It is a great way to let your future connections know about you. You can also decide what section of your profile to show or hide from the user settings.
Showcasing your Passion(Work)
We all do varieties of work. You may be a blogger, YouTuber, side hustler building applications, a mentor helping people be successful, many more. Each of these streams of work needs the motivation to go on. One of the sources of motivation is that people see your work and recognize it.
Showwcase encourages you to show your creation to others from the community. Bring your hard work as a public show to get feedback, find recognition. You can create shows using out-of-the-box templates to showcase products, side projects, videos, code snippets. You can also start from a blank template or even import your work from Medium, Dev blog, WordPress, TinyLetter, or anywhere else.
The motto of Showwcase is to showcase what you love building, gather feedback, stay motivated.
Build your Communities
A community lets you find like-minded people and keep you informed about the happening in your areas of interest. Showwcase is growing with the number of communities. Join the communities of your interest. Learn from the discussions. Share ideas, knowledge and grow together.
You can also create a community of your own and ask people to be part of it. It is an excellent opportunity to build awareness of a skill, process, value by building a relevant community.
Learn & Share
When you are on Showwcase, you can choose to follow people, communities you are interested in. Based on your interest, you will see the posts, shows as feed. Feed is a great way to pick and learn, involve in a discussion, appreciate hard work, and get involved.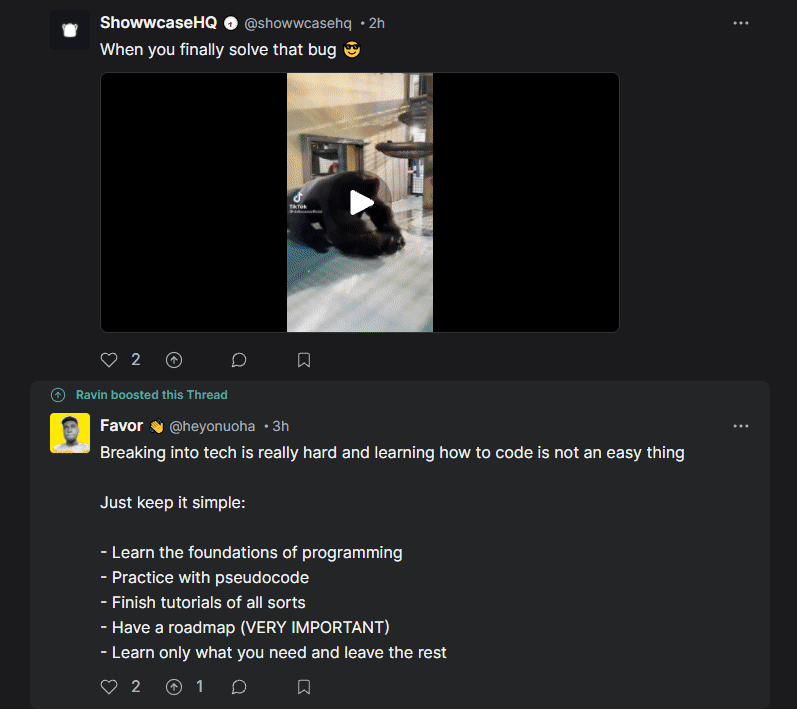 You can start a thread to share knowledge with people. If a thread is related to a particular topic/interest, you can post it for the related community.
Creating Opportunities
Showwcase is a network built for developers. With the help of communities, your initial connections, your content always reaches other developers. You build the audience for your content by creating and sharing them consistently.
Showwcase handles the content creation tools, payment gateways to monetize your content. You can choose to start putting your content behind a paywall. Create memberships, set the right price for your content, create subscriptions.
While monetizing your content is a great idea, but your opportunities are not limited to it. Your showwcase profile speaks for you. It may bring you many job opportunities, mentoring opportunities, coaching & training opportunities.
Build Connections
In any networking platform, connection matters the most. Showwcase lets you build a meaningful connection with many. People see your work and know you for it. This nature makes Showwcase very different and productive from many other social networking platforms.
Follow like-minded people. If you have worked with someone from your network before, you can request to add them to a work with relationship. It increases the visibility and growth for future connections.
Great, So What's Next?
Are you on Showwcase already? If so, great. I hope you agree with all the benefits of the platform we have discussed so far. If you are not part of the showwcase yet, please join in. Please feel free to use the invite code joinatapas398 to join. You can also request for early access from here.
---
That's all for now. I hope you found this article informative and insightful.
Let's connect. You can find me at,
Did you find this article valuable?
Support Tapas Adhikary by becoming a sponsor. Any amount is appreciated!